Our Summer Scheme Recreation and Kinder Gym sessions are fantastic, safe and structured classes where children will learn new exercises in a new way with carefully supervised use of apparatus in a safe environment run by our qualified gymnastics coaches.
It is all about exploring movement, having fun with their peer group and building the confidence to take the next steps.
Gymnastics for 3 to 12 year old's. The classes are 1 hour long for KinderGym and 2 hours for Recreation, Monday to Friday. It will consist of the following activities:
General Warm-up, stretches, Fun games and circuit activities.
Group activities on all our apparatus: Beam, AirTrack, Bars, Rings, Floor, Parallel bars & Vault.
Dates
Week 1
Monday July 29th – Friday August 2nd
Week 2
Monday August 5th – Friday August 9th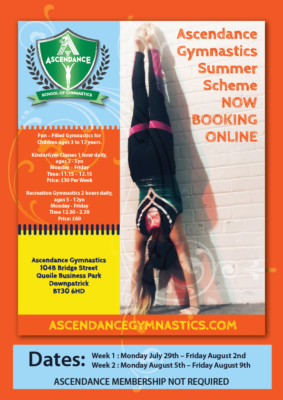 ASCENDANCE MEMBERSHIP – NOT REQUIRED
RECREATION GYMNASTICS
Monday – Friday
Time: 12.30 – 2.30
Ages: 5 – 12yo
Price: £60 Per Week
KINDERGYM
Monday – Friday
Time: 11.15 – 12.15
Ages: 3 – 5yo
Price: £30 Per Week
SECURE YOUR PLACE QUICKLY AND EASILY HERE.